Nick Gamma's New York Bar Review, featuring Bars from New York City and State. Reviewed by the 'Legendary Lush'... Nick Gamma, formerly of metal rock band, Sneak Attack. Some of these places aren't reviewed anywhere else. Apologies for reviews of bars no longer serving :((courtesy Sneak Attack Metal Rock website)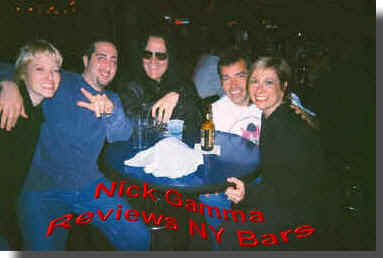 at Nice Guy Eddie's
---
Current Reviews
Reviews, as of 1/10/06 (Yes, it's a classic 90s website for amusement only)

= Editor's Choice

= I'm no longer revealing these locations for their safety

= For the eaters
Jump to M-Z
For more exact locations: New York City Search
---
101, Bay Ridge - Great food (for those who care about that). Great Bar (too small now, though), a little $pricey. Say hi to Rick, Ferris and the many hot hostesses. Great view of the Bridge and the thunderstorms that roll in in the summer and fall. Home to the Brooklyn 'Beautiful People'...if there is such a thing.
Alberto's, Bay Ridge - Might have the best food in the Ridge, at this point. The actual bar area is small, but, the drinks had me stumblin' out the door and the price wasn't bad. Nice back room w. Fireplace. Next door to Samm's. I usually start with drinks at Samm's, then, eat and drink more at Alberto's.
Antarctica, SoHo - Other than having trouble spelling the name, I like this friendly place. Lots of TV's, nice bartenders, and friendly regulars. In a place that's a little out of the way: 287 Hudson St.
Backstage Bar and Grill, Arthur Kill Road, Staten Island - I bet this is the only review of this place. Played there with Perhelion, July 19. Nice Stage and a 'dressing room' almost makes up for the fact that it's in the middle of nowhere! Next to Curves (good place B), reminds you of that scene in 'Animal House' when you pull up. I expected chicken wire and cowboys. Unfortunately, it's not even that interesting. No following except what the bands bring in, and a few mutant farm animals. Pours and prices are Ok. Food available, smoking ok at times.
Bar None - A young crowd. Good bartenders, including Whitney, who I believe was on 'Shipmates'. I think it's on, like, 14th and 3rd.
Bellevue Bar, Hell's Kitchen - Great hard rockin' Jukebox and bartenders who are frequently more wrecked than you are. It's sort of like Mardi Gras without beads...if ya know what I mean ;) Sci-Fi theme and very dark. Great drinks and prices. Plenty of drunks, some fights, but, ya can't beat it.
Black Bear Bar & Grill, Hoboken NJ - Good drinks and prices...and you can still smoke in NJ. Had a young lady name Melissa behind the bar who was a very good bartender. Many choices in Hoboken, but, this is a solid one. Food's good, too.
Blagard's, 35th and 7th - Not much to say...it's a typical Irish Bar. I guess they didn't pay enough attention to me to get a better review BD
Bogart's, Bay Ridge (really Sunset Park 'cause it's on 61st) - A little Irish Pub type place with Bands. The drinks were good enough . May not have bands anymore...?
Bogey Mulligan's, Long Island (Plainview/Bethpage) - I camp out there in my RV and sometimes I want to socialize. Good drinks for not much. Friendly crowd...sleazy women available on some nites ;)
BR Starrs, Bay Ridge - A classic Brooklyn dive bar. Pool table, TV's, buy-backs, cheap drinks, Jet fans...Ya can't beat it. Hungry? - just order a pizza from Pizza Wagon.
Bulls Head Tavern, 23rd and 3rd - Great, attractive bartenders (one named Angela comes to mind, she pours a mean drink), fun atmosphere. Young crowd, College or thereabouts. One night I was there and at around 11PM all these models walked in! Too bad I was already wrecked (again ;). Same owners as Kings Head....same idea.
Buoy Bar, Point Lookout - What a set-up, especially if the weather is good. Outside, covered, on the water. They now have food and you can smoke! Great buy-backs and Happy Hour deals. Ladies Night on Mondays totally rocks.
Cafe 31st - Strange name, across from the Garden. Crazy Scotsman proprietor. He has good taste in hiring attractive bartenders. Overall, I give this place a B-.
Cafe Andalucia, Hell's Kitchen - This place combined with Bellevue, nearly gave me alcohol poisoning a couple of times. Just tough to leave. Go say hi to Macarena (Hot), have some tapas, download some tunes on the mp3 jukebox.
The Cottage Cafe, Lake Placid, NY - Yeah, I luv this place. Right on Mirror Lake. Outstanding view. Good for Apres ski, or other excuse to drink and have a snack. Not to mention the best ski town in the US.
Dakota Roadhouse - Nearest beer to Ground Zero. Went there recently and met a young lady named Lara, I believe B*). Anyway, seemed like the same old sleazy, lushed out scene (that means it's good ;)...and Lisa Marie aka Snake Woman still works there!
Elbow Room, Bleecker St., Village - Good place to see some Rock n' Roll. Bar's good, drinks good. Has a cool side room where you can relax. Usually a cover charge, but, nothing unreasonable. A second bar opens on the weekends. Big stage for the musicians. Concert atmosphere on a small scale.
El Teddy's, Tribecca - It's been a while since I was there. Nuthin' to write home about, 'cept for the Statue of Liberty on top of the place. Might have a 'suspect' clientele. Some of the guys were a little too friendly, at that time, anyway. There's better choices on this list.
Fairways Bar & Grill, Bay Ridge (formerly Pennington's) - Not talkin' Chad Pennington, but, had a great crowd for Jet games. Anyway, since it's been redone as Fairways, it's real nice with a fireplace and it's clean now. Attractive females actually come in now! Good prices and good pours from the animated bartenders. Also, like 8 TV's for a small place. Only downer is the jukebox isn't quite as good as before. That's cool...I'll deal.
Flannery's, 14th & 7th - Didn't spend a lot of time here, but, it's a classic Irish pub with great pours and nice prices. Check it out if in the area.
Goalpost, Bath Ave in Brooklyn - A local place if there ever was one. I recently made my first stop here since they opened a couple of years ago. I see they've added attractive female bartenders. Unfortunately, they are the only NY bar I've seen that has the dreaded 'poured shot'. This, as you know, takes any science out of pouring a drink...and also a lot of the fun :(
Hogs n' Heifers, 13th and Washington - Forget it...Tourist trap. Too many other good bars in this town. Might be worth having one round for humor.
Hogs n' Heifers (uptown), 95th and 1st - Not bad, fun place to play. The girls dance on the bar and they have bands like 'PerHelion'. Strange location, kinda by itself on 1st. There's parking on the street.
Hooters, Manhattan - Well, it was a long awaited visit for me. I guess Tuesday afternoon isn't really a happenin' time, cause it was pretty quiet. Yeah, the girls looked good...and they knew it. All wanna-be models or starlets. I shook 'em up a bit when I walked in with my 'Stearn meets Ozzy meets Gene Simmons', etc look. They were ready to audition. Anyway, the food was OK for salt fans. It's only a wine/beer bar, so, that's something to consider. It did have one really key redeeming quality...the prices were nice. Like $5 for a glass of ok cabernet. So, the viewing is good, but, not better than many other bars mentioned here. It's really just a good place to have a cheap beer and watch sports.
Jets Tailgate Parties (Meadowlands lot 13A) - frequently better than the games. Me, Joe B. and whoever else is brave enough to down a Jet boilermaker with us (any Beer, topped off with bourbon...oh Yeah) as we rock out. Too bad ESPN has decided to invade lot 13, it's kinda crowded now.
Keat's, 45th and 2nd - Just a solid, comfortable NY eastside bar with good pours and appetizers. Say hi to Jackie and tell her Ozzy sent ya ;)
Kings Head Tavern, 14th near 3rd - Fun, a little too nice inside, friendly crowd, attractive servers and clientele. Same idea as the Bull's Head.
Kopperfields, Bay Ridge - Check it out on Karaoke nite, usually Thursdays. A certain rocker who looks a little like Ozzy might be singin'.
Lazy Susan's, City Island - Man, talk about a place where they just keep pourin' until you drop. Awesome Happy Hour with Nachos! Great prices, too. They recently went Mexican. I don't know if it's just 'cause the Nachos are good >:->.
Live Bait - Thought this was a diner when I first saw it. Actually, you can get some decent grub here. It's a great last stop before hopping the X28, 38, 27, 37, or 29. Alice seems to always be working there...which is a plus.
Mark's, Croton - Another Jet Bar! This one in a friendly Westchester Village. Lottsa Green and White inside.
Minnesota's, Long Beach - A great Beach bar that's not on the beach. Nice viewing, TV's, good food, hot waitresses, OK prices. I think they buy-back...can't remember ;) It appears that ashtrays come out later in the evening. Say hello to the new Mayor of Long Beach, my friend Angelo.
Nice Guy Eddie's, Houston St., East Side - Had to go here when I saw the painting of Kiss on the outside. Had a great time as the locals adopted me (see picture above). Jukebox is good, but, not as good as I had imagined.
Orange Bear - Another downtown survivor. Good for Music lovers. Kinda strange people work there, but, it's worth a look.
Outback Steakhouse Lounge, 86 St., Brooklyn - Ya wouldn't think it, but, it's got a great bar. A little $pricey for this neighborhood and one of the only bars in the immediate area (Dyker Heights). However, Drinks are Verrryy good! Plenty of high calorie death food, too. Say hi to Maggie, Mony, Marcel, and Joya.
Peculiar Pub, The Village - I like to use this place as a meeting and starting off point for the village. Then you can go to the Bitter End, Red Lion, Elbow Room, or just stay here!
Peggy O'Neill's Coney Island, at Keyspan Park - Great Party place. Big stage for the bands. Nice outdoor area for smoking. Bar is kinda far away from the main area, but, not a big problem. The PerHelion show on June 7 was great. The crowd was wild and the post gig drinks were awesome.
Peggy O'Neill's, Bay Ridge - Smaller than it's newer cousin, but, still fun. Good pours and atmosphere.
Raccoon Lodge, Downtown - This place is just as good now as ever. A lot of the same atmosphere you'll find at Bulls Head. Some excellent veteran bartenders, too.
Rhodes, City Island - Not bad, kind of a strange crowd sometimes. Ya know not really local, not really tourist...hard to describe. Food is ok, Drinks are good...Somehow though, it just doesn't get it done for me anymore. I think Lazy Susan's is better right now, in the City Island zone. Of course, my mood has been known to change on these things. B)
Rodeo Bar, 3rd and 28th - Sort of a western theme, but, it's still NYC. Solid choice, but, nothing to get overly excited about. They have bands, but, none I can remember. Of course, that might not be the band's fault (LOL). You can stumble around that whole area of 3rd and do quite well.
Rolf's, 3rd and 22nd - The German food and seasonal decor make this place a special treat. The bar is nice, but, it's really a restaurant. We usually warm up with a nice glass of red wine or 2, then move to the tables. Reservations are required...or at least a good idea. Service is fine....man, I'm getting hungry just thinking about it. Around Christmas is one of the best times.
Samm's, Bay Ridge - I've met some hot chicks in this place. It's pretty friendly, by Brooklyn standards. Drinks are a little $pricey. The owner and bartenders are cool. Food's good, nice wines. I think I like Alberto's (next door) better for eats, although, recent meal at Samm's with Ms. Andrea was awesome. Think I had Rigatoni Bolognese, and Andrea had....?
Seashore, City Island - A beautiful wooded bar environment with Fireplace. Great wines and a happy hour deal, too. Food's ok...typical City Island fare. What's up with all the breading on the fried calamari on this berg? Anyway, Seashore is a good place.
Slopes, Tannersville NY (also the Aspen Club and others) - I just always have a great time there. Watch out for the icy sidewalks when cruising Main Street....ouch! ***Update*** Another 7 hour stint...how do they keep me there...Oh, yeah, Roslyn, Debbie, Jessica, many others ...that's how! See Jen or Adam for a mean pour. Now, if they'd just throw some picture of me on their website :)
TS MA, 30th and 9th - (Sorry, it's gone) :( Chinese name...something to do with year of the horse. Anyway, go see Tim...one of NY's best bartenders. Good place to drink cheap in a comfortable environment. Food is good.
Village Idiot, 14th & 9th - If you like country. you're set. I don't, but, the girls and drinks almost make up for it ;)
Other Bars to be reviewed:
Hooters has finally been reviewed! (above in the H's)
Le Bar Bat, 57th St. No point - it's gone...1 less place for bands to play.
Montego Bay, Island Park (mini review: Worth going just for the bartenders outfits...or lack of them. Think you gotta wait 'til summer, though B)
This makes me realize I drink in a lot of places. Maybe you do, too.

*These opinions are mine, based on my drunken experiences at these places, and not compensation from them. In fact they sometimes don't even buy me a drink...until I've had 3 or so, which takes around 35 minutes
---
Sneak Attack links:
New Featured MP3 Sample
Member Pages:
Nick Gamma's Web of Darkness
DeFreaze Guitar Dungeon
Other Cool Stuff
Powered by GammaWeb Site Design
Copyright 2001 - 2015